Best Places To Live in Orange County For Families
Orange County is one of the most desirable places in America to live. Why? With an abundance of family-friendly neighborhoods, excellent schools, and parks for your children– there's no shortage when it comes to living here!  But which city is the best? If you're thinking about making a move to OC, then here are our picks for the 10 best places to live in Orange County for families.
I want to point out, that these 10 different cities are in no particular order. Simply my opinion of what I feel are 10 great places to raise kids in orange county. As a local Realtor in Orange County, I am very familiar with its cities. After growing up and living here I have not only been to but have had experiences in all of these towns. I am talking about personal experiences too, not just real estate. I strive to help families who are moving to orange county have as smooth as a transition as possible.
For starters, I've put together some points to consider about different neighborhoods in the area. You'll find different rankings as far as schools and even crime.  Also, I'd like to inform you, that all of the median prices talked about in this blog are based on 5/1/22-5/31/22. I hope you find this information useful enough to narrow it down to a few key areas you are truly interested in. 
1. Irvine
Irvine is the perfect city for families to live in. At the center of OC, this city has a population of 272,694 as of 2020. It also has plenty of green space, including 21 community parks and 45 neighborhood parks! Also, Irvine has for the 16th consecutive year, had the lowest per capita violent crime rate for a city its size over 250,000. According to Niche.com, Irvine Unified School District is among great company, being ranked the #1 District in all of Orange County.
At the Irvine Great Park, you also have tons of different recreational activities, camps, and classes. This park is still very new with just 200 acres developed of the remaining 1,300 left. You also have the Irvine Spectrum which is a massive outdoor shopping complex, with 175 different types of shops and restaurants. Here you also have fun things to do like go to the Regal Irvine Spectrum Theater, Irvine Improv, and Dave & Busters. Irvine also has the Verizon Amphitheater where many concerts are played. Also, by the summer of 2022, the Wild Rivers water park should be built and open to the public. Overall, Irvine is one of the best places to live in orange county for families.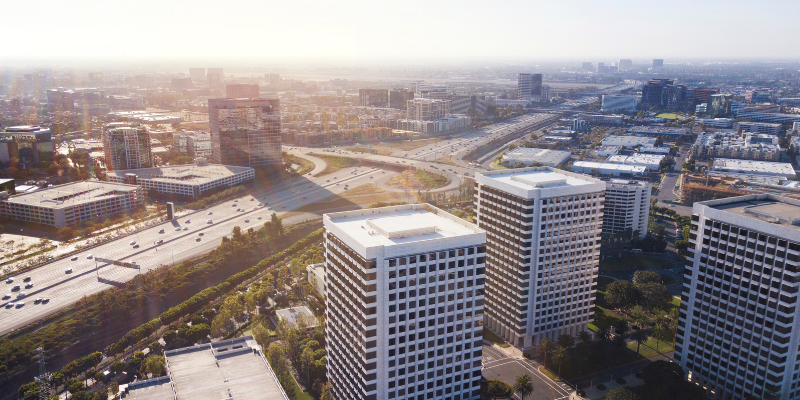 2. Los Alamitos
This is one of the smallest cities in Orange County with a population of 11,521. However, don't overlook it one bit as it contains many of the same family-friendly amenities its neighbors have. Both low crime rates and actually the highest API test scores in the whole area. The school district comes highly regarded and is also amongst the top 100 in the whole country according to Niche.com. This is going to be another area that will be on the higher budget side. With a median sales price of about  $ 1,520,000,  we're looking at roughly 30% more than the county median.
Here you'll also have seasonal carnivals, movie nights outdoors, and small-town local shops in the area. Here in Los Alamitos you also have a horse racing venue and Navy Golf Course. Another place to visit would be the USA Water Polo National Training Center which is open for different aquatic activities. Overall, a great town to move to with children.
3. Mission Viejo
This is another master-planned community in Orange County which is a great place to raise children. This city is home to 95,638 people with a median sales price of 1,100,000. This area is one of the more affluent communities of OC just slightly above the median sales price of the whole county. At the heart of this town is its very own Lake which you have to be a resident of the city to attend. At this lake, you have snack bars, a basketball court, volleyball, barbeques, and even a beach where you can enjoy the sand. Also, during the summer you can attend concerts here which are known to be a great time.
On top of a low crime rate, you have great schools apart of Saddleback Unified School District and Capistrano Unified School District. Another reason many choose to raise a family in Mission Viejo is there are tons of different trails and parks.  Some popular ones are Pavion Park, Florence Joyner Olympiad Park, and Beebe skate park. There are tons of sports fields including Mission Viejo Youth Atheltic Park, which has eight different baseball diamonds and five soccer fields. With access to so many different recreational activities, Mission Viejo really is a top place to raise a family in Orange County.
https://cityofmissionviejo.org/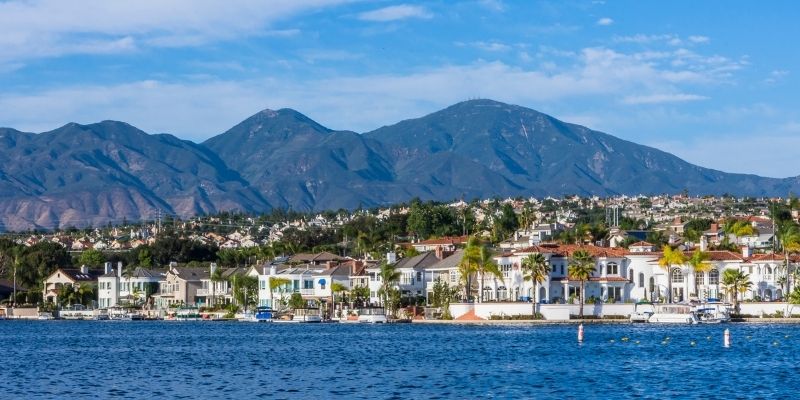 4. Yorba Linda
Yorba Linda is another great neighborhood in OC that boasts good schools and a low crime rate. In fact, according to Safewise.com, it is the #5 safest city in California based on FBI crime statistics. This is also one of the wealthiest cities in the county with an average household income of just over $120,000. As a result, the median sales price of homes here is about 17% higher than OC median price at $1,277,500. With a population of about 68,000 people, this is one of the mid-sized cities in OC. At the center, you have the town center, which is the heart and soul of this lively city. Here you can enjoy some retail therapy or catch up with friends over dinner at one if its many restaurants. All while keeping an eye out on your kids playing in nearby parks!
 Another great reason to move here is you really have a large diversity of styles of homes. Everything ranges from homes built in the 1950s to brand new construction. With the topography of the area, you have hills throughout which leads to larger yards and slightly more spread-out homes. Here in Yorba Linda, you can also attend the Richard Nixon Library Museum or the Yorba Linda Heritage Museum. When trying to figure out where to live in orange county, Yorba Linda is a great option to consider.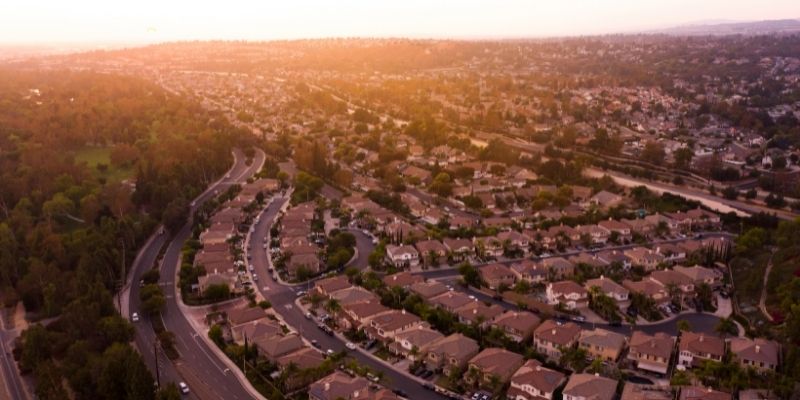 5. Laguna Beach
Laguna Beach is relatively a small beach town of nearly 23,000 residents. This entire area is rich in culture with an amazing art and music scene. The schools in the area are also great, according to Niche.com,  Laguna Beach Unified School District is top 100 in the country. With all this being said, it's no wonder this is one of the most expensive areas to live in all of Southern California. , The median sales price is $2,812,500, which is more than double the median sales price of orange county.
As far as beach cities go, it doesn't get much better than Laguna Beach. Year-round tourists and locals attend art festivals, summer concerts, theater shows and so much more. You also have access to tons of different beaches like Main Beach, Aliso Creek Beach, and many other private beaches. (The locals may get mad at me if I put on a blog) I promise you'll find em if you look hard enough. There are tons of cool boutiques and local eateries in the downtown area. From pretty much any part of the city you will also have an amazing sunset view. If you can budget for it, Laguna Beach is a great place to live with your family!
https://www.lagunabeachcity.net/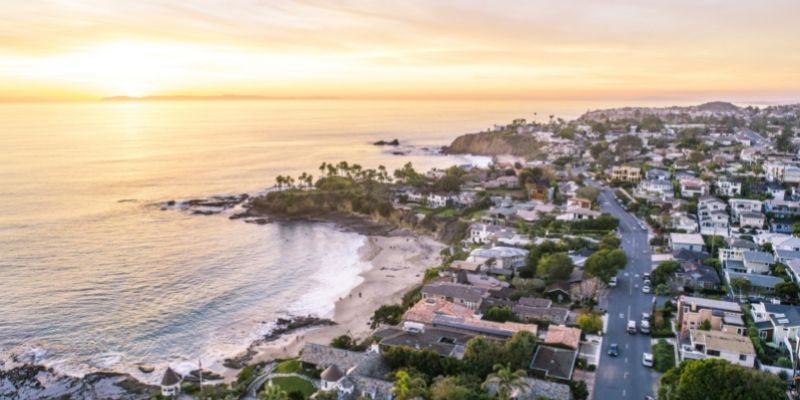 6. Newport Beach
Newport Beach is a family-friendly neighborhood of Orange County which is home to some of the most expensive real estate in OC. The average household income in this city is $133,849. The median sales price in this area for single-family homes, condos, and townhomes is  $3,095,000. As of 2020, there were 86,694 people living in Newport Beach. This city is complemented by the many different family activities throughout the city. Here you have the Balboa Island Fun Zone and the Orange County Museum of Art. You can enjoy the beautiful coast at the Newport Bay Nature Preserve or Crystal Cove State Park. Another very popular attraction is Fashion Island, a very popular mall right near the coast.
In Newport Beach, you'll find there are many great restaurants and more nightlife scenes than you'd typically see in other cities. Many neighborhoods are tucked away a bit away from these nighttime venues like bars and clubs. Many neighborhoods are tucked away a bit away from these nighttime venues like bars and clubs. By this time, the kiddos should be sleeping anyway, and hey maybe you deserve a break and head to town when you can get a babysitter. Newport Beach is one of the best places you can consider when moving to orange county.
https://www.newportbeachca.gov/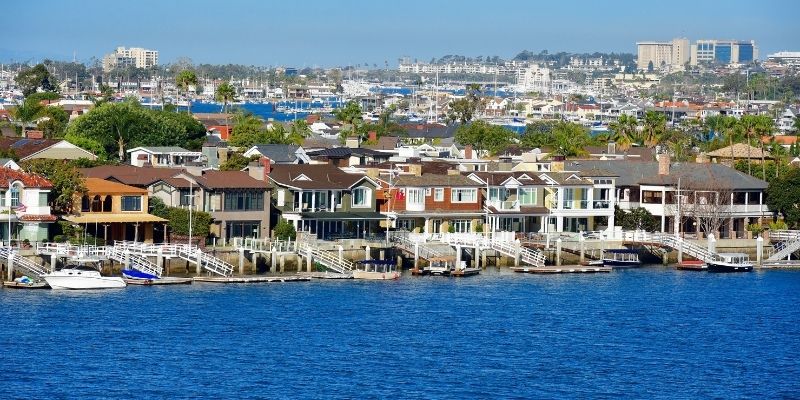 7. Seal Beach
Here is yet another city that is one of the best places to live in orange county for families. There are 24,268 residents calling this city home another smaller-sized community in this large county. The median sales price at the time of June 2022 was a bit skewed by a higher volume of sales for condos in townhomes. The median for single-family homes here is $1.35 million and with townhomes and condos in factor, it was just below $400,000.
The small beachside community of Seal Beach is the northernmost coastal town in Orange County. The Seal Beach Pier is the perfect place to enjoy a sunny day with friends and family. Whether you're into fishing, sunbathing, or just looking for some good old-fashioned seaside fun – this pier has it all! Named after the Seals you can see from the pier, you also have a view of the boats docking on the coast of Long Beach. You also have the San Gabriel River which flows through the northern part of the city as well as a 28-long bike trail that follows it.
8. Rancho Santa Margarita
If you are looking for a family-friendly neighborhood in orange county, look no further than Rancho Santa Margarita. This city is home to 48,280 residents according to the 2020 Census. It also boasts high test scores and low crime rates. In fact, according to, https://www.safewise.com/blog/safest-cities-california/, RSM was ranked as the #2 safest city in OC. The median sales price of homes in this city is $918,750, compared to the median of Orange County which is, $1,058,000.
For those looking for a home on the more affordable side of orange county, this neighborhood could be a good fit. Rancho Santa Margarita is also home to the Lago Santa Margarita Beach Club and Tijeras Creek Golf Club not far away. There are tons of different playgrounds, a skate park, a dog park, and many different places to eat. You also have very close access to O'Neil Regional Park which is a great place for hiking and camping. 
9. Aliso Viejo
Aliso Viejo is one of the best family-friendly neighborhoods in all of Orange County. With about 50,385 residents also has a very low crime rate. The median sales price, for single-family homes, condos, and townhomes in Aliso Viejo is about $ 850,000 as of June 2022. Which compared to the median sales price of homes in Orange County is nearly 20% less expensive.
There is great value in this neighborhood that also has great schools apart of the Capistrano Valley Unified Schools District. In the center of town, you also have the Aliso Town Center which contains a movie theater, bookstore, and tons of different shops and restaurants. As far as recreation, many families spend time at the Grank Park for Summer concerts and movie nights. There is also the Aliso and Wood Canyon Wilderness Park, Aliso Viejo Ice Palace, and the Aliso Viejo Country Club.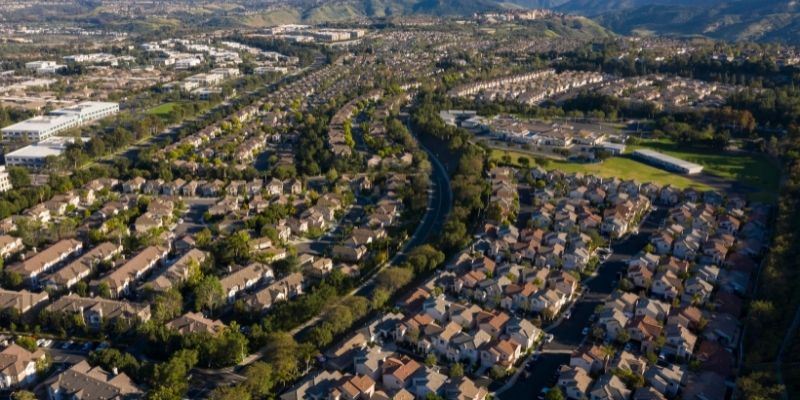 10. Lake Forest
Here is another great community to consider moving to with your family. What's interesting about this city is it's actually still growing, so you have the option of purchasing a newly built home. There are about 84,666 people who call this city home. As far as affordability, the median sales price of homes in this town is $1,075,000, which is pretty average for orange county homes.
A very family-friendly city with 32 different parks throughout the city including a sports park and a skate park. The newly built Lake Forest Sports Park is home to both youth and adult sports leagues of all types. Lake Forest is another example of a city in OC that has both older and newer construction to choose from. Another really nice part about this area is there are many different tall trees in the area, hence the name. Certain parts of the community are also members of the different lakes they have in the area like the Sun and Sail Club and the Lake Forest Beach and Tennis Club. Overall, this is a great place to consider moving with your family. 
Best Places to Live in Orange County for Families 
Making a decision on where to move when raising a family can feel like a monumental task. By learning what makes each neighborhood or city unique in the orange county comes clarity. I recommend first, is really trying to figure out what is going to be most important for you and your family. Then once you learn more about the different neighborhoods, you will be able to effectively narrow down your home search. This will make the home buying process that much smoother, especially with a professional orange county realtor by your side. 
For more help on finding the right home to buy for you and your family, give us a call today at 949-354-7391