7 Reasons To Consider Moving to Orange County
Are you thinking of making a move to Orange County? Whether you are looking for better job opportunities, a more active lifestyle, or simply want to escape the hustle and bustle of city life, Orange County has something to offer everyone. Here are seven reasons why you should consider moving there
Diverse Stock of Housing

Tons of Job Opportunities

Nearly Perfect Weather

Year-Round Outdoor Activities

Prime Location in SoCal

Luxury Shopping

Great Schools
Diverse Stock of Housing
It should go as no surprise, that Orange County is home to some of the most expensive real estate in the entire country
Orange County has long been a destination for those looking to escape the hustle and bustles of city life. It should go to no surprise, that it is home to some of the most expensive real estate in the entire country.
The developer's vision is unparalleled in OC, with homes that range from expansive mansions in Coto de Caza to luxurious post-modern beach homes in Laguna Beach. After moving to orange county, you'll quickly notice how the weather in the area compliments the feel of your home with a pacific breeze coming through while you can relax easily on your backyard patio.
Throughout Orange County, you also have many master-planned communities like Mission Viejo, Irvine, Foothill Ranch, and so much more. In these areas, homebuyers can acquire beautiful homes in suburban-style neighborhoods. You'll also find that many of these developments have planned out parks and hiking trails to enjoy an outdoor active lifestyle. Another point is many of these planned developments are in fact owner-occupied, and it really gives off the neighborly feel in a lot of these different housing tracts. I know for me growing up, there was always a group of kids running around the neighborhood. Just another great aspect of choosing to live in one of OC's more planned suburb neighborhoods, which all boast great schools and safe environments to raise children.
Now not everyone considering living in Orange County is looking for that suburban lifestyle and can look to multi-story condos in communities like Costa Mesa, Huntington Beach, or Irvine. These are also areas of commerce, a lot of people who work in offices or run businesses choose to do so in these more hybrid suburban cities. You'll also notice these areas offer a bit more nightlife and entertainment venues compared to some of their neighbors and still enjoy the proximity of being in-between city life in Los Angeles and San Diego.
Tons of Job Opportunities / Great for Business Owners Living in Orange County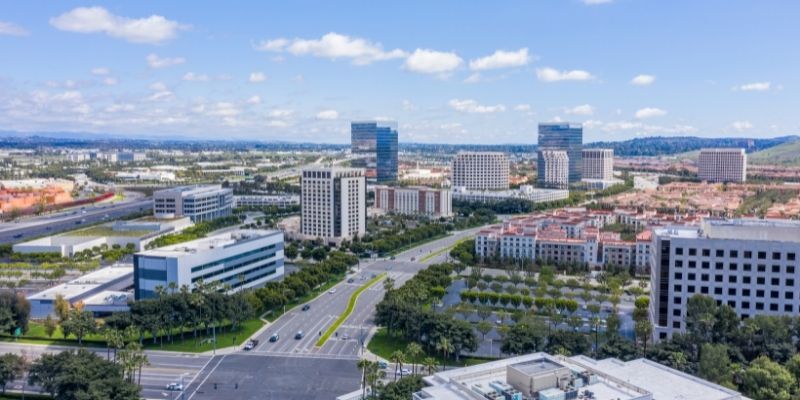 Orange County is also home to a variety of great companies to work for. A very robust economy is also a great place to start a business or launch a brand both big and small. You may be familiar with companies like Vans, Quiksilver, or Blizzard Entertainment. Well, Orange County was the place where they were able to launch and grow their brand into massive global enterprises, and the truth is there are tons of very talented and educated people who are able to help drive the success of your business too! With universities like UCI, Chapman University, and Soka University there is a constant pool of growing talent and future leaders, it is no wonder why companies like Chipotle and CoreLogic have decided to bring their headquarters to Orange County.
For those who are looking at starting or moving your business to OC, you should know that according to WalletHub Irvine was ranked California's best place to start a business. Also with a median household income of $94,441 in 2020, according to the U.S Census, the potential to provide goods and services is definitely there.
If you are still thinking about moving to orange county, and you currently own a business, click here for a FREE marketing strategy video that will ensure you a smooth transfer bringing your business to a new geographic location.
Nearly Perfect Weather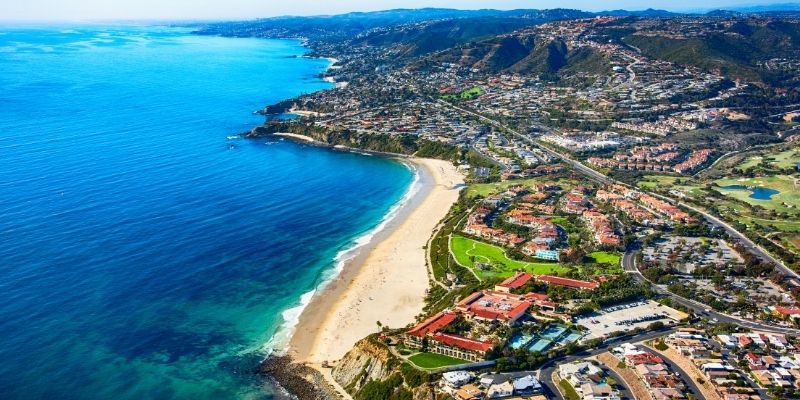 One of the large reasons so many choose to relocate to Orange County is because of the weather. I mean let's face it, the year-round Mediterranean climate offers some of the best living conditions in the county. Living here, you'll very quickly get used to the weather and start to become a little sensitive to any other type! Of course, it's still Southern California and during the summer can get pretty warm, but even the furthest inland cities like Yorba Linda or Rancho Santa Margarita are just 30 minutes-1 hour away from the beach depending on what time of day you leave. (don't be discouraged by traffic, considering it is not nearly as rough as surrounding counties like LA, San Diego, and Riverside)
Living in Orange County, you'll quickly notice how the near-perfect weather conditions allow locals in OC to enjoy outdoor activities all year-round. Meaning when you go to the beach, you're often gonna see surfers out there hitting curls every season. And yes even, during the summer you'll see groups of cyclists riding the streets and trails.
One thing is for sure, there are absolutely no extremes when it comes to weather. Picking an outfit to wear is a breeze and locals are able to prioritize their fashion. That being said, OC is also home to some of the best shopping malls and outlets in SoCal
Tons of Shopping Options
Whether you fancy luxury brands or consider yourself a gem hunter in thrift stores, we really have it all!
Starting with South Coast Plaza, home to California's largest luxury shopping complex which offers over 25 different luxury brands such as Chanel, Prada, and Gucci. After moving to orange county, you won't miss out on any type of fine dining. There are tons of great restaurants here and during holiday seasons you can attend world-class events ranging from Christmas to Valentine's Day.
OC is also home to many outdoor malls and outlets that contain everything from department stores to seasonal boutiques. We'll start off with the Irvine Spectrum, which contains nearly 175 stores, a large variety of restaurants, and several entertainment venues. Some of the highly sought-after restaurants include Cheesecake Factory, Habana, Javiers, and so many more. You can also have a night out enjoying the Regal Movie Theaters, Escape Rooms, or the Irvine Improv. Pretty much every city in OC has some sort of shopping outlet, some of the more popular ones include The Outlets at Orange, The Shops at Mission Viejo, or Outlets at San Clemente.
Since Orange County has such great year-long weather, many of the residents choose to express themselves with all different styles of clothing. So if you are the type to put together your own independent style, you be more excited to shop at more boutique-style places in areas like Laguna Beach or Santa Ana. When it comes to shopping and fashion, Orange County is second to none.
Year-Round Outdoor Activities When Living in Orange County
The landscape and climate of Orange County provide a great environment for hiking and spending time outdoors. You'll be in proximity of tons of different walking trails throughout the area, some in mountains and others amongst coastal areas, and all of them with must-see views. For breathtaking sights of the coast, you can visit Crystal Cove State Park or if you're up to the challenge, you can take the 15.6-mile hike up the Saddleback Mountains to Santiago Peak (and of course bring a lot of water with you)
With many different beaches to visit in the area, it can be hard to decide which one you'd like to go to. Some of the beaches like San Clemente and Huntington Beach have piers, or there are also rock arches or tide pools at some of the smaller beaches. It all depends on what you're looking for on your beach day. You could decide you want to take surfing lessons at Doheny State beach, or maybe you have children who aren't the best swimmers, so you go to Dana Point Harbor. Looking to have a bonfire and roast some smores? Beaches like Aliso Creek or Huntington Beach have a ton of public bonfires you can use.
After living in orange county for some time, you'll start to realize everyone has their own idea of what is a relaxing day at the beach and OC has a different type of beach for each and every level of relaxation. One thing you can count on no matter what beach you decided to go to, by the end of the day you'll be able to enjoy a beautiful southern California sunset!
Some other ocean-based activities would include paddleboarding, kayaking, or renting a boat in Newport Bay, protected by all ocean waves. Fishing on one of the famous piers, or going whale watching in Dana Point harbor. The opportunities are endless and there is truly so much to do in all of the different beach cities.
Theme Parks
Well, it is nearly impossible to talk about things to do here, and not talk about the theme parks. OC is home to both Disneyland and Knotts Berry Farm. Now anyone moving to orange county is obviously aware that yes it is home to the place labeled as "the happiest place on Earth", and I am sure you'll pay it a visit sometime. For many Orange Countians, a season pass is a great way to just stop by Disneyland for a few hours and enjoy the peace of not having to rush through everything. Although there is a certain level of excitement when you know you just have the day and you're trying to hit all your favorite rides.
Knotts Berry Farm is another theme park, that in my opinion has better roller coasters than Disneyland, but overall it is just an entirely different experience. After all, it is considered California's oldest theme park. You'll notice rather than just the Peanuts and Snoopy theme there are also the old Ghost Town attractions that give you a little history lesson on what it was like back in the wild wild west!
Prime Location in SoCal
Another great reason you should consider moving to orange county is its proximity to Los Angeles and San Diego. You get the OC lifestyle without living in the city, but you're close enough to go there if you have hybrid work in the area or just want to pay a visit. If you find yourself needing to travel to San Diego, some nice neighborhoods to consider could be San Clemente or Dana Point. Also, aspiring California homeowners who need to travel to LA could find a nice place in north OC like Seal Beach or Fullerton.
What really makes Orange County stand out compared to its neighbor counties in SoCal, is the traffic is not nearly as brutal. Yes, traffic is inevitable during rush hour periods across all of southern California. However, Orange County was built much later than surrounding counties and there are many different freeway routes that take you throughout the region.
Great Schools in OC
This is another very important factor people consider when they think of living in orange county. Everything ranging from public elementary, intermediate, and high schools, orange county is home to very highly regarded school districts. In fact, according to Niche.com, "10 Orange County school districts made the top 100 in the statewide rankings and nine were among the top 100 schools in the nation" Some of these notable districts are Irvine, Los Alamitos, and Laguna Beach.
Many of the school districts in the area are also highly competitive in sports. That is one thing you'll definitely notice, even before the high school level, many coaches, kids, and parents get very into their sports. It's just a part of the culture that has grown in the area and it helps shape kids to be competitive in spirit and helps build a great foundation for future endeavors. I benefited myself from this growing up and living in Orange County I was able to play basketball, football, and volleyball growing up with great teachers who helped me become who I am today. Tons of great coaches and programs to help set your kids up either for a competitive world. There are also tons of Olympic and professional athletes who either grew up or live in this area as well.
Another factor that brings people to OC is the different universities in the area. You have schools like Cal State University of Fullerton, UCI, Chapman University, and also great junior colleges like Saddleback College. Whether you're a student or faculty, orange county is a great place to focus on your studies and teachings, while also having tons of other options of stuff to do with your free time, as I have stated many things earlier.
Thinking of Moving to Orange County?
There you have it, 7 very valid reasons to consider moving to Orange County. If you are looking for a plan of action, and don't know where to start, don't worry we're here for you! Whether you need more space for your growing family or are looking for a change in scenery, our team can connect you with some of the best neighborhoods in the area.
Give us a call today @ 949-354-7391, or book a FREE consultation today let us help make your dream of living in sunny Southern California a reality.